What are your nicknames?
Sid, Little Sid, Siddall, Sidders, LMSid (I won't disclose the plethora of names I get called by my family!)
I'm sure my coach Julie Dibens may give me a few more, or perhaps just behind closed doors cursing me, but for now I think Sid is the main one.
Where you were born and where you currently live?
Born Mansfield, Nottinghamshire, England. Currently living in in my suitcase. Pretty nomadic, travelling the world and living the dream!
Who is your coach?
Julie Dibens
What's your motto?
Don't Die Wondering. (But also Better Never Stops. Inpursuit of Excellence. IAMSID)
What's your weakness and how do you make it better?
Cadbury's Dairy Milk and food in general, and I have no will power in this area.
Greatest achievement to date?
Lots of races I'm proud of. Winning my first Age Group World title in Beijing was special and one I'll always remember. So too though all four Age Group World Championship titles, and particularly winning in Vegas at the Ironman 70.3 World Championships, then backing up just a week later with the Olympic distance World Championships in London. My three Ironman Australia titles are very special to me, the first, was my first Pro Ironman win, and backing up for two more years I would never have imagined was ever possible. Winning Ironman New Zealand in 2018 was also an amazing feeling because of living in Christchurch for half the year and how the country has also adopted me. Another race I'm incredibly proud of is my second place at Challenge Roth in 2017. (It doesn't always have to be the wins!)
Where will you be in 5 years?
Living the dream, travelling the world, hopefully still working my butt off in the world of Triathlon (in some form or another), all with a smile on my face. Hopefully involved in making the sport better and improving it for everyone, kids, adults, Pros and Age Groupers alike. Also working with the corporate world in Performance and possible commentary and event management.
What are your goals in triathlon?
To be better. To be the best I can be. To push my limits and continually drive myself to be better. To win races, but to live my life and have fun.
What do you do when you're not being a professional athlete?
It's a 24/7 job, but most of my "spare" time features coffee drinking! Also trying to spend time with family and friends.
Who is your hero and why?
Where do I start, so many people inspire me. There were a lot of heroes for me at the London Olympics, it was infectious and inspiring watching some incredible athletes with amazing stories. Then athletes like Kelly Holmes, Sally Gunnel and Denis Lewis were athletes I looked up to as I grew up, and also Steve Redgrave. From a Triathlon perspective Chrissie Wellington and Belinda Granger, so many to name who were game changes in sport over the years when I first started to learn about it, and now have been honoured to race along side. Also Ama Agbeze, I played Netball with Ama, many years ago. She's an incredible woman who's been instrumental in the rise of Netball in the UK and for England on the World Stage. Her professionalism, poise, attitude, character, words and actions, are always ones I look up to and admire. Be more like Ama.
Who inspires you?
My family. My sister Naomi was a great inspiration to me growing up. She was competing in Netball, rowing and athletics and probably how I got so into sport. But it was how she managed Netball for England but with a full time job (Netball was no where near the level it is now in the UK) but also the ups and downs in the sport and selection and her tenacity and professionalism in that. The rest of my family too, as they have such different lives to me that I couldn't possibly imagine coping with, and I'm impressed by everything they do and have achieved.
Other female triathletes and athletes…so many to list! As above! Anyone who goes about things a little differently and is not afraid to make a change and be a game changer or do something a little different.
What are you most afraid of?
Sharks, dying, running out of chocolate? (I also don't like fields of cows, or birds that fly at me.)
What inspired you to choose triathlon over any other sport?
I was a runner (track) and netballer, but played any/all sports growing up. Triathlon came about when I was looking for a new challenge having moved to Australia.
How often do you train?
Every day, twice a day and more.
What gets you through a tough session or race?
Focusing on the process. Focusing on the 'can' and 'doing'. Breaking the set or race down. Just one more rep, then reassess. Positive self talk. Positivity feeds positivity. Knowing it's all worth while and the consistency and hard work will pay off. Or just some loud good tunes.
Favourite after training meal?
Brunch… poached eggs with avocado and an espresso macchiato.
How do you relax before AND after a race?
Before a race is all about routine. After the race…normally just collapse and find a burger. The following day I try to get out on my bike to spin legs (depending on commitments). Also post race I normally fill it with other race events or local tri club activities or other commitments and travel - so it's more hectic than relaxing but I love it.
What is your favourite post-race meal?
I often find it hard to stomach anything immediately post race, so have to force some food into me. Tend to crave salty foods when I get my appetite back. Burgers and pizza normally too.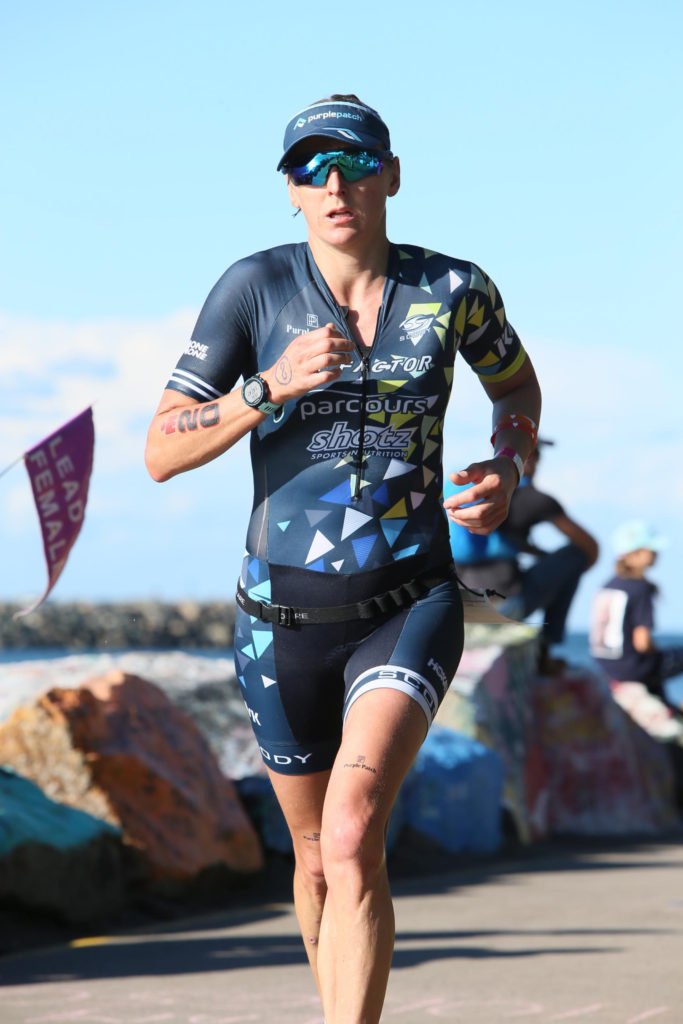 Favourite training song?
Varies and random mixture. Out of Our Heads (Take That), In Colour (Shapeshifters), Easy Love (Sigala), Underworld (Always loved a film), Resurrection (Michael Calfan / Coldplay), Can't Hold Us (Macklemore), Neon Trees (Animal), David Guetta. (I once listened to Animal, by Neon Trees on repeat whilst running 20laps of the track!) So many... anything up beat. 80s classics are also winners!
(Race song - Lisa Gerrard, Now We Are Free... gets me going every time! Challenge Roth start line.)
Favourite piece of kit and why?
My Soda Stream! Can't live life without bubbles!
When did you think you could turn pro?
Somewhere in 2013. I wanted to start the process to the next step but didn't want to rush as I would need to step up to 70.3 focus. So I guess after Honu 70.3 and then the World 70.3 Championships in Las Vegas (September 2013) I thought it was now the time.
Where you sporty as a kid?
Yes, I love and played all sports. In the UK if you are half decent at sport you get put in all the school teams!
If you had 1 pass to race any location or and distance for the last time EVER where would you go?
The Olympics.
What can't you live without?
My SodaStream (I've bought 5 now in each of the places I've lived!) Also Sport. It's an integral part of my life and who I am. Oh, maybe chocolate and coffee as well.
What's your favourite lie that you have ever told?
I'm good, I don't lie :-)
If your life had a sound track what song would it be?
Queen, Don't stop me now..it's more of a family song for my sisters and I.
What's your favourite leg and why?
Left leg, it's stronger.
What do you dislike most about triathlons?
Packing your bike up after a race to get on a flight and travel. I love the travel and it's such a buzz, but the packing post race when everything is sticky and urgh... and you're tired isn't much fun.
What do you eat/not eat?
See food, eat it diet.
Favourite holiday destination?
Oh so many…Croatia (particularly Dubrovnik) is a real favourite of mine ever since I travelled there in 2004. Also going home, to my parents in the UK and spending time with my family. But I have a long list of some many places I'd love to travel to and truly experience.
What is your greatest moment outside of triathlon?
Passing the selection course and spending a Gap Year as a Second Lieutenant in the British Army, and my First Class Honours Degree from University.
If you could have one superpower what would it be?
Be invisible.
If you won $1million how would you spend it?
Give to my family and take us all on holiday or for them all to come visit me. Buy a house and a car (Aston Martin and probably a Land Rover Defender), invest and donate a lot to charity. Also, put a lot back into the sport, either through supporting female athletes or a team, or putting on an event. Working on something to change things for the better.
What song is currently playing on your iPod?
Actually listening to a few Podcasts at the moment, Inside Tri, Supporting Champions, The Love Women's Cycling Podcast, A Question of Performance, Witsup podcast, Clean Sport Collective... can you see the theme...
What's next?
Coffee? Chocolate? Wine? Training? World domination?